www.Help2Let.co.uk
Help2Let is a Harrow Council project for local landlords and tenants alike.
Websposure has created a website which is completely content managed.  Since the original site was built we have been commissioned to build a complete Customer Relationship Management portal that is integrated with the Website.
This was our fifth project of it's kind for the London Borough of Harrow.
We have now been recommended to yet another one of the departments and are very confident that we will win that work also.
Marie O'Shea of Help2Let has also kindly helped us with a video Testimonial which you may see both on our home page as well as our Testimonials page.
You may also read about what Ms. O'Shea had to say below.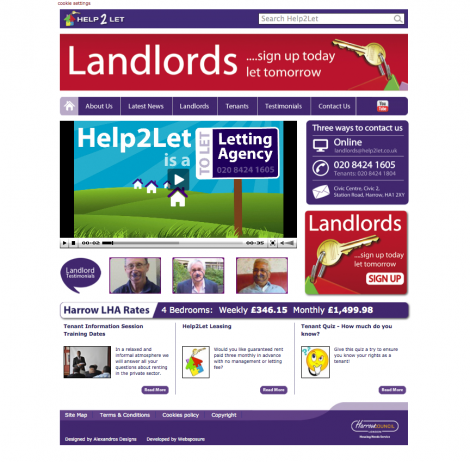 Marie O'Shea, ManagerHelp2Let
" Harrow Council launched Help2Let as the first Social Letting Agency in London. We match private landlords with families in housing need and have placed nearly 400 families with landlords in the private sector. We wanted a website that conveyed to landlords that Help2Let give a quick, simple and efficient service with no unnecessary bureaucracy. We wanted a website which was functional and easy to manage from the admin panel. From the start Websposure understood our requirements and gave us invaluable help, advice and ideas on how we could convey our message to landlords. They were always available to meet with us and talk through any difficulties or challenges we were experiencing. They have always and continue to be available to assist us and inject new ideas in to how we can improve the site. We are extremely pleased with our Website and have received very favourable responses from our associates and customers. I am happy to recommend Websposure as we have found them to be extremely supportive, capable and reliable. We know that Websposure are always only an email or phone call away. "